October Meeting
Immigration in the Collar Counties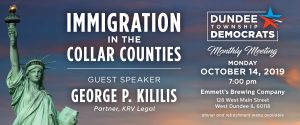 With immigration bans and ICE detention centers, families being split and longtime legal residents being deported without due process, the issue of immigration in the U.S. has rocketed to the forefront this political cycle. But how does this impact Illinois?
Join us for a discussion of
immigration
's impact on Illinois and especially in Kane and McHenry counties. Learn about sanctuary cities, the Illinois Trust Act and other
immigration
laws and how they impact us. Guest speaker George P. Kills, Partner, KRV Legal.
Monday, October 14, 2019 at 7:00 PM
Emmett's Brewing Company
128 W. Main Street, West Dundee IL 60118
A dinner and refreshment menu is available at Emmett's.
---
Community Picnic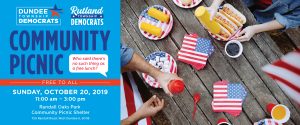 Please join the Dundee Township Democrats & the Rutland Township Democrats October 20, 2019 at the Randall Oaks Community Picnic Shelter from 11:00 am to 3:00 pm. Hot dogs, sausages, chips, and water will be provided. Come meet elected officials and candidates for office and make some new friends!
Sunday, October 20, 2019 at 11:00 am to 3:00 pm
Randall Oaks Park
Community Picnic Shelter
750 Randall Road, West Dundee IL 60118
Help us get a headcount by ordering a FREE ticket using Eventbrite:
Candidates/Speakers/Elected Officials:
Jim Malone, State Rep. District 66
Junaid "J" Afeef, Kane County State's Attorney
Theresa Barreiro, Kane County Circuit Clerk
Greg Elsbree, Kane County Chair
Jamie Mosser, Kane County State's Attorney
Corinne Pierog, Kane County Chair
Penny Wegman, Kane County Auditor
State Sen. Christina Castro
Ron Hain, Kane County Sheriff
Nancy
Zettler, D300 BOE Member
Trish Glees, Dundee Township Supervisor
Chris Kious, Kane County Board
Jarrett Sanchez, Kane County Board
TJ Clark, DCCC Field Manager
Daniel Biss
Invited but not confirmed:
US Senator Dick Durbin